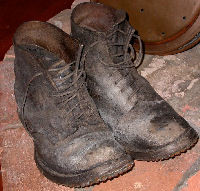 Fred Jordan's boots
We weren't quite as much of a throng as the previous week but almost everyone was singing or otherwise performing. We were joined in the bar by two people not directly involved in the session. There's nothing at all wrong with that, and I saw them responding to some of the performances, which has to be a good thing.
This was the nearest Dragon session to twelfth night, so there were some appropriate songs for that, and continuing the theme of New Year. We also had a mini-theme of
Fred Jordan
.
Maggie being unwell, Mike was to leave at half time again, so Richard did the duties of MC.
Derek kicked off proceedings with
Lavender's blue
(
Roud
3483) which is connected with the celebration of
Twelfth Night
and the choosing of the king and queen during the festival.
Robert Herrick
's poem
Twelfe-Night, or King and Queene
(published 1648) describes the election of king and queen by bean and pea in a plum cake, and the homage done to them by the draining of wassail bowls of "lamb's-wool", a drink of sugar, nutmeg, ginger and ale. Note that Derek uses "fiddle faddle" rather than "dilly dilly" in the song.
Mike kept to the seasonal theme with
The Happy Man
(Roud 1230) "...as happy as a King 'til he hails the New Year".
Roger, apparently oblivious of the danger even as he recounted the story, told of how he sang
Marching through Georgia
(
Henry Clay Work
) to some people from Georgia. We assumed they were from the US state rather than the Eurasian country. Apparently Roger came out of the experience unscathed; he said these Georgians had never heard of the song. Phew! On rather safer ground, Chris charmed us with
The Water Is Wide
(Roud 87)
Phil returned us to childhood with his rendition, complete with train whistles and scripted interjections from Roger, of
The Runaway Train
(
Robert E Massey
,
Harry Warren
,
Carson Robison
).
Gary took us back to the season with
New Year's Eve
(
Si Kahn
) before Simon finally (but sadly) got rid of the couple who were minding their own business by the fire with the appropriately bleak
Wreck of the Edmund Fitzgerald
(
Gordon Lightfoot
); appropriate because the wind was howling round the pub and causing the sign outside to swing madly in its frame. Mike pointed out that it was also appropriate in that The Globe, the world's biggest freighter (until the next one)
docked for the first time in the UK, at Felixstowe, this week
.
Colin put us back on an even keel with
Rick Kemp
's
Somewhere Along the Road
.
Derek noted that
the USAF are moving out of RAF Mildenhall
and challenged anyone to have a song about the air base. He felt he was on good ground and the only song about it was probably his own song, Flatlands.
Richard took us back to the deep South (following Roger's march through Georgia) with
The Abolitionist's Hymn
.
I promised a mini theme of Fred Jordan. It was started off by Gary singing
Fred Jordan's Boots
(
Colum Sands
) which tells about Fred's old boots which he wore for his singing performances. They are now to be found in the home of his friend
Roger Giles
in Devonport, New Zealand.
Derek went on to tell a story he heard from
Doc Row
who related what happened when Fred stayed with him in London. He took Fred to the Tate Gallery to show him the works of Constable and Stubbs. On seeing the paintings Fred started to criticise them on the basis of agricultural inaccuracies. This caused a crowd to gather round this clearly knowledgeable critic. Doc let it be known that despite his rustic mode of dress, Fred was a leading critic of the works of these two artists, and the crowd continued to grow. By the time they left the gallery they had a large entourage hanging on Fred's every word. Here's a taster of
Fred Jordan
's singing.
Albert Richardson and friend
After his first effort of the evening (Edmund Fitzgerald) Richard had accused Simon of singing only songs telling stories with a sad ending. On reflection Simon said he thought his repertoire included roughly equal numbers of sad and happy songs, and to prove it, he sang
Buttercup Joe
(Roud 1635). Mike suggested it wasn't so happy after all, since it saw a jolly single man end up well on the way to being hitched to his girl, Mary. Derek struggled to remember who was the traditional singer who sang this song. I think he may may have been searching for
Albert Richardson
.
The second half included a number of poems from various people and Richard finished off the evening with Come All You Garner's Gay (Roud 3) to make the total number of performances, sung and said, for the evening up to 35.
Before I close for this week, there was some discussion about Garners Gay. Here is what it says on
MainlyNorfolk
, which I find a useful resource when writing these reports: "William Bartle of Wrestlingforth, Bedfordshire sang this song as
Come All You Garners Gay
on August 19; 1960; he was recorded by Fred Hamer. This track was included in 1989 on the EDFSS cassette The Leaves of Life: The Field Recordings of Fred Hamer and in 1998 on the EFDSS CD A Century of Song.".
Here's
a selection
of these and other songs sung during the session.
(Number of people present - 10, of which 9 performed)