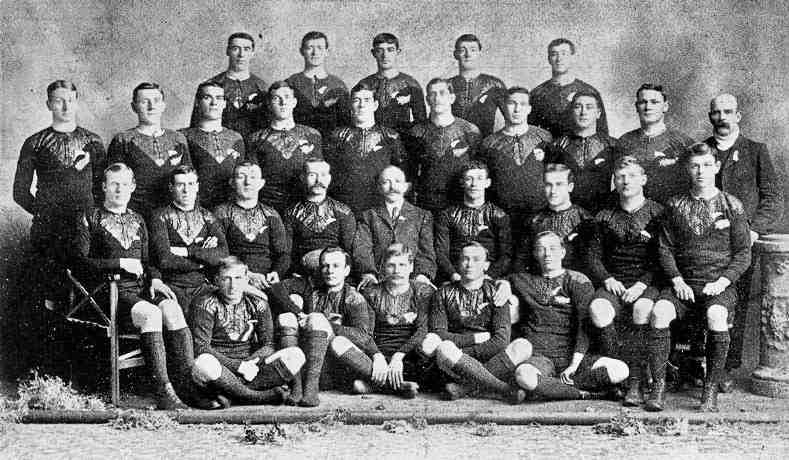 The 1905 Original All-Blacks who each received
We were smaller in number than recently but no less keen. It was the evening of the first six nations' rugby match of the season: Wales versus England at the Millennium Stadium, Cardiff. This led to one of the main themes for the evening.
Richard was once again MC and, since Mike hadn't yet thought of a song, got Colin to kick off the evening, which he did with
The Robert Whitworth
(
Neil and Roz Kimber)
, telling the story of
an epic rescue
performed by the Whitby lifeboat of that name on 19 January 1881.
Derek announced that his three planned songs were all connected by a theme, and also to 31 January. It was our job to work out the connection. The first song was
Ain't No More Cane On The Brazos
, a traditional prison work song of the American South. By the time Derek's turn came round again Simon, with the help of his trusty phone and
Wikipedia
, had worked out the connection; it was the hundredth anniversary of the birth of
Alan Lomax
, who collected the song.
Derek's second song was collected by Lomax when in England, while on the run from the anti-communist witch hunt, despite his protests that he was in Europe simply to work on a project for Columbia records. The song was
Jeannie Robertson
's version of
My Son David
(
Roud
200,
Child
13).
Since his theme was already guessed, Derek switched his third planned song for one following his ongoing theme of songs sung by
Fred Jordan
. This time it was
The Royal Albert
(Roud 2). Derek claimed there was still an Alan Lomax connection for when Lomax was collecting songs in the area of
The Wrekin
, Shropshire, one of the singers he met suggested he should go to see Fred Jordan, who was yet to be discovered. When he went to find Jordan, he was not there, so Lomax did not collect from him, but he did pass his name on to other collectors and thus missed out on a treasure trove of songs.
Simon pointed out that there was another connection between Derek's third song and 31 January. While searching Wikipedia for Alan Lomax, he had noticed that the first venereal disease clinic was opened at
London's Lock Hospital
on that day in 1747. The connection is that The Royal Albert comes from a group of songs usually known as
The Unfortunate Rake
(one is even called Lock Hospital). These songs are about someone, usually a man, and often a soldier or sailor, who has been infected with syphilis.
Taking up the rugby theme of the evening, there were some obvious rugby songs but at one stage it seemed Mike was capable of finding a rugby connection to just about anything. The ones I spotted were as follows:
Away from the rugby theme (as far as I know), Colin sang
Our Captain Calls All Hands
(Roud 602), to something approaching the tune Monks Gate. That's not a criticism of Colin, but rather that I think the correct tune for the song is similar to Monks Gate rather than being exactly that which Roger used to sing an abridged version of
John Bunyan
's
He Who Would Valiant Be
.
Colin finished off the evening with
Roger Watson
's
The Pick And The Malt Shovel
.
Next week's is our closest session to Valentine Day, so Mike declared the theme to be Lust and Unrequited Love; the gauntlet is laid down. See you next week for lots of that!
Here's
a selection
of these and other songs sung during the session.
(Number of people present - 9, of which 8 performed)