Maggie S
Maggie S arrived to last week's session, mince pies in hand, almost convinced that it was our Christmas session but in fact it was a party to honour her contributions to the club over the last 30 or so years that she has been first its treasurer and then the overall organiser. A very good crowd turned out to mark the occasion. In practice Colin took over a few weeks ago but there's no problem with an excuse for a party.
With so many friends old and new appearing throughout the first half it seemed we'd never start on a second round, so rather than miss anyone out, I will try to list all of the songs sung on this occasion - though I will struggle with a couple of them.
Simon had arrived indecently early to help with the set-up, not that there was much to do, so Colin asked him to start off proceedings.
Simon -
Speedy Gonzales
(
Buddy Kaye
, Ethel Lee and
David Hess
) - not very folky but known to be liked by Maggie.
Colin -
My Last Cigarette
(
Sydney Carter
) - one of the first songs Colin sang at the Dragon Folk Club
Tom -
Looking For You
(
Allan Taylor
)
Terry H -
Two Sleepy People
(
Hoagy Carmichael
and
Frank Loesser
) - continuing Colin's theme of cigarettes
Terry C -
Come By The Hills
(
W Gordon Smith
)
Derek -
She Moved Through The Fair
(
Roud
861) - though Derek does not sing the usual version: there is no mention of anything supernatural, and it starts off "I once loved a young girl" rather than the more familiar "My young love said to me". I tried to find any version that seemed anything like Derek's but I'm afraid I failed.
Jan -
Roll Me On The Water
(
Bonnie Koloc
)
Richard -
Brothers In Arms
(
Mark Knopfler
)
Lesley -
Downtown
(
Tony Hatch
)
Rose -
Today
(
Randy Sparks
)
Mike -
John Kanaka
- Possibly the first song Maggie heard Mike sing
Steve C -
Sammy's Bar
(
Cyril Tawney
)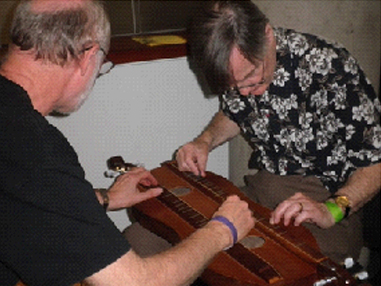 John S playing a Courting Dulcimer
but not in the biblical sense!
Phil -
Salty Dog Blues
Alan M -
Runcorn Ferry
(
Marriott Edgar
)
Alan K -
One Too Many Mornings
(
Bob Dylan
)
John S -
Come, Come My Brave Boys
(Roud 17782) - played on his Courting Dulcimer, an Appalachian Dulcimer with two opposing fingerboards. The couple would sit knee-to-knee and play. By the continuing music, a chaperone in another room would know that nothing unseemly was happening - this was before the advent of the tape recorder, of course. On this occasion John played the Courting Dulcimer alone!
Keith G -
The Very Thing That Makes Her Rich
(
Sidney Bailey
)
Jo -
Edge Of The World
(
Nell Bryden
)
...and so ended the first round. It being not quite time to break we started off again immediately.
Simon -
King of Rome
(
Dave Sudbury
)
Colin -
Perry Merry Winkle Domine
(Roud 330) - you, like me, may know it as Perry Merry Dixi Domini but it takes all sorts!
Tom -
Roll On The Day
(Allan Taylor)
Terry H - A comedy song, which I assume to be called Vindaloo, to the tune of
Only You
(
Vince Clarke
), with lines like "I'm still on the loo".
Now was definitely time to break for an extended raffle in which most people should have received a prize, and a plentiful buffet which was put on by the pub - thanks to Chris, it was so much easier than organising it ourselves. With so much to do in the interval, the second half was rather abbreviated. Sorry to everyone who didn't get to sing a second time, and to anyone who didn't sing on the first round but might have been persuaded on the second (Imogen?).
Terry C -
William Brown
(Arthur Hagg)
Derek -
Harbour Le Cou
Jan -
Listen, Listen
(
Sandy Denny
)
Richard -
One Misty, Moisty Morning
(Roud 20075)
Lesley -
A Sailor's Life
(Roud 273,
Laws
K12)
Rose -
Delia's Gone
(usually attributed to
Blake Alphonso Higgs
)
Mike - The Lamb Finishing Off Song, referring to the pub in Iron Acton where the Dragon Folk Club started its life. The song is sung to the tune of
Strike The Bell
(Roud 4190) - "Flash the lights and shut the door, and lock us all in".
...and with that historic finishing off song, everyone wended their way home. Thank you to everyone who attended and made it such a great evening for Maggie (I hope) and for the rest of us. Please come again soon.
Next week (11 December) will be our Christmas session. Because of this, Maggie's mega-party, it will be a little more low key than usual, but if you wish to bring seasonal cakes, I am sure we can do a great job of sharing them. Songs will of course be, where possible (optionally), of the seasonal variety. Don't worry we have those among us who simply say "Bah humbug!".
The following week, 18 December, a number of key members of the club will be away. If you are intending to come along on 18th, please contact us using either the
email address
or phone number shown on this blog and on the club's Facebook page. If there isn't enough interest shown then the session on 18th will be cancelled.
The week after that is Christmas Day, the only Friday of the year when Dragon Folk Club does not normally meet, so we will be back, raring to go on 1 January with all your New Year, fresh start, January songs.
Here's
a selection
of songs sung during this session.
(Number of people present - 23, of which 18 performed)