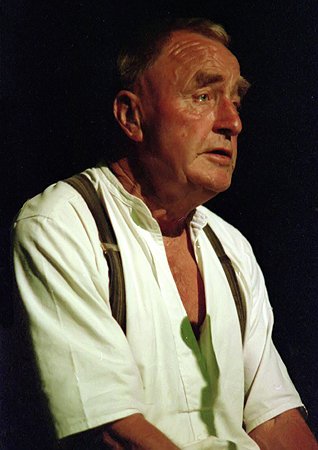 Fred Jordan
Experimenting with a post from my phone. Many thanks to Derek for this great report from Friday's session.
The attendance at start of play was rather sparse; but before long we got up to a count of 28 legs. Admittedly these figures are slightly massaged by including putative club mascot Gert 'Ratty' V, who was introduced by Mike to the old Bristol craft of chewing beermats. Relaxed by this, she was able to resist Steve's attempt to coax her into doggy noises by starting off the night with
Dido Bendigo
.
The night's new visitor was Dave from the Bath songwriters' workshop. Unable to find a socket into which to plug his electrical gubbins, he reverted to
a capella,
singing his own songs and
Blow the Wind Southerly
, which those of your scribe's generation still associate mainly with
Kathleen Ferrier
. He also won the raffle.
John F, better known by most of us as a regular at the
Nova Scotia
, made his second visit to the club. Thwarted in his ambition to sing
Spancil Hill
('It being on the 23rd of June, the day before the fair') because someone had beaten him to it, he instead produced a fine rendition of
Cliffs of Duneen
.
Gary's singing of
Fred Jordan's Boots
led to a number of reminiscences of
Fred
and a performance of Fred's version of
The Outlandish Knight / Lady Isabel and the Elf Knight (Child #4)
.
But the prize for the most detailed song of the night goes to Colin for his version of
Tommy Armstrong
's
Durham Miners' Lockout
, including a couple of verses rarely sung, even within County Durham!