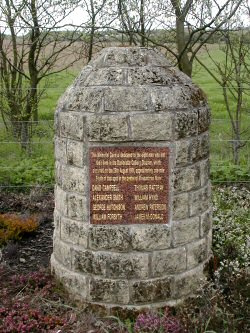 Donibristle disaster memorial
This week Maggie 1 brought along a thank you letter from
BUST
for the money raised at Maggie 2's birthday session on 26 July. As previously announced, we raised a total of £52.65.
Mike kicked off the session with
Drink old England dry
.
This weeks' new face was Colin (yes, we had two Colins) who regaled us with stories strange and wonderful, and often funny. It wouldn't be polite or particularly useful to recount his stories here, but one went something like
this
.
We were also joined by Dave and Pauline, who are occasional regulars at the club. Dave's contributions included
Gordon Lightfoot
's
Sit down young stranger
. Pauline started off saying she hadn't brought any words but she kept pulling songs out through the evening and her contribution included the
Eriskay love lilt
.
Derek introduced a theme for himself of 26 August. He started with
The Donibristle disaster
which tells of the
Donibristle Mining Disaster
in Fife, which occurred on 26 August 1901 when part of the Mossmorran peat bog near Cowdenbeath collapsed on sixteen miners 360 feet underground. Four miners were lost, as was the four-strong rescue party remembered in the song. All the bodies were recovered between September and December that year.
Derek's second song was
They don't sing me any more
, which is his own song, each verse anthropomorphising a song and suggesting that singers now write their own songs rather than singing the old songs. The irony of writing a song on this subject is not lost on Derek! The third verse mentions Thomas Rattery, a member of the rescue party following the aforementioned Donibristle disaster, and mentioned in that song.
Derek was going to continue his 26 August theme with a song about the Dublin Transport Strike of 1913 which started on that date but very unusually for Derek, he got the verses mixed up and gave up. It's good to see that everyone is fallible sometimes. Instead he gave us
Bonnie house o' Airlie
.
I don't want to give the impression that the whole evening consisted of Derek's fine ballad singing, far from it.
Lesley and Richard have just returned from a holiday in Vienna which Lesley marked by singing
The ballad of Sigmund Freud
(
Chad Mitchell Trio
) and a self-penned song, Vienna, sung to the tune of
Fiddler's Green
and with references to the
Ultravox
song,
Vienna
.
Richard's singing also included a song he wrote himself:
Ossett
, inspired by a Yorkshire saying, cited by
Austin Mitchell
in his book
Talkin' Yorksher
. The saying is: "Don't 'thee thou' me 'thee thou' thissen and see how tha likes 'thee thouin''".
Colin's (the "regular" Colin, that is) contribution included
Sydney Carter
's
Crow on the cradle
. Simon's final song was
Stan Rogers
'
Northwest passage
before Mike finished the evening with
All the good times are past and gone
.
Here's
a selection
of these songs plus some others sung during the session.