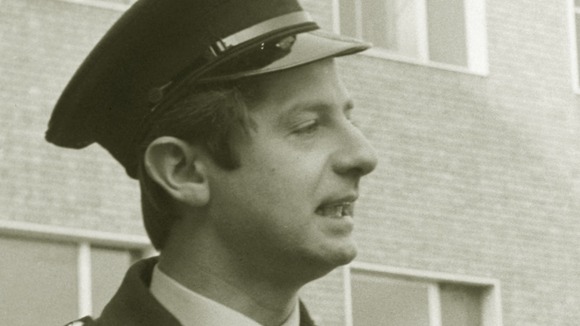 Belfast-born Jimmy Ellis in his
Z-Cars role as Bert Lynch. (Photo: Barratts)
Before the start of the session, and in fact before I had arrived, we were visited by our customary "Fresian", who even if not as drunk as sometimes, was not very pleasant to Maggie S. We have now been promised a lock on the door by the pub. It is important to be aware that it will not be intended to keep out anyone who wants to join us, so if you come along and find the door locked, please wait for a break in the music and knock on the door. You will not only be invited in but you will be made very welcome.
Tonight was our St Patrick's Day session and almost all of the songs were Irish related. The exceptions were Paul, who entertained us with his own instrumental guitar compositions as usual and Derek's second song, in memory of
Tony Benn
who died this week. When Tony Benn was on
Radio 4's Desert Island Discs
, one of his records was He who would valiant be to the tune
Monk's Gate
. Derek therefore took the opportunity to sing another song to that same tune.
I think everything else sung at the session had some sort of Irish connection. I can't mention them all here, so here's just a small selection. You can find more in the YouTube link at the bottom of this report.
Mike kicked off the evening with
Belle of Belfast city
. Derek followed with an Irish version of
Johnny Todd
in memory of
Jimmy Ellis
who died on 8 March. For those too young to remember (my memory is very vague on it), Jimmy Ellis played Bert Lynch in the BBC TV series
Z-Cars
the theme tune of which was an instrumental version of
Johnny Todd
.
Here's a quick example of an Irish song sung by each person present, except Maggie S and Paul who didn't sing:
As usual there was a lot of good craic with most of us contributing funny stories of our experiences of Ireland. Mike had the story of the supposed weekend in Dingle, when he was waylaid in Cork at a three-day-long wake. He never made it to Dingle.
Steve G was taken in by a man offering him dodgy ponies, explaining that the start of the trail was just up the road - everyone had had enough when the trail was reached, and there were far better horses available there for the purpose.
Simon passed on some local knowledge for anyone buying the excellent fish and chips from
Leo Burdock
's shop, opposite Christchurch cathedral in Dublin. Apparently the fish comes with a small portion of chips, so strangers asking for "fish and chips" are effectively served two portions. The correct protocol is "I would like some fish please"; "Would you like chips with that?"; "No, just a few"!
At the interval Paul praised the communal singing at the Dragon Folk Club, especially the manly way we all join in with Mike's shanties (Mike is a member of the Bristol Shantymen)! Paul said that he had recently heard the
Fisherman's Friends
and considered them over-produced. At that Mike went into all sorts of ecstasy at finding a kindred soul. Mike's view is very similar and he also notes that they sing some songs written by Bristol local, Nobby Dwyer, apparently without crediting him.
Derek finished off the session with a rip-roaring unaccompanied rendition of
Finnegan's wake
. Any attempt to sing along with the chorus saw us left behind.
Mike and Maggie S won't be at next week's session, so the optional theme will be "Sing a song for Michael". I won't be there either, so the blog report will probably be written by Derek. More importantly, it means your attendance is required even more than usual to ensure it will be a great evening.
Here's
a selection
of these songs plus some others sung during the session.