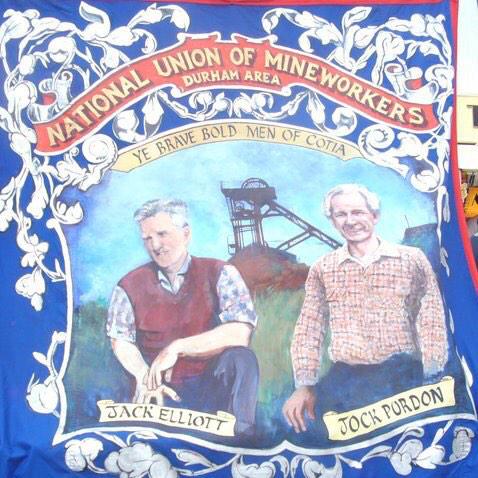 The Cotia (Nova Scotia Mine) banner
depicting Jack Elliott and Jock Purdon
Before I get down to the report for last week there are couple of important parish announcements. First, the pub is having a major event of some sort on Friday 7 August, so there will be no Dragon Folk Club session that night. The pub has however offered us the bar on Saturday 8 August if we want it. please let us know if you would be interested in attending a session at The New Inn, Westerleigh on that evening. If there are enough people we will take the pub up on its offer; if however it doesn't look worthwhile we will not.
The other parish announcement is that the session on 31 July will have a special theme, and one we have been discussing since at least April. The theme, possibly inspired by a round on Radio 4's comedy quiz programme
I'm Sorry I Haven't A Clue
, is
One Song To The Tune Of Another
. So if you can sing The Lincolnshire Poacher to the tune of Auld Lang Syne, or Pack Up Your Troubles to the tune of My Daddy Wouldn't Buy Me A Bow-wow, then the thirty first is your chance to shine.
Back to the subject of last Friday's session, we were very pleased to welcome guests, Steve and Sandra, from Cumbria who had an overnight stop nearby on the way to their holiday destination and had looked us up on Facebook. They entertained us with their fine harmonies and we proved up to the challenge of contributing to their choruses.
The evening, MCed by Colin, was kicked off by Derek with The Cotia Banner (
Jock Purdon
), to mark the date of the Durham Miners' Gala (pronounced "gayler") which is held on the second Saturday in July. Mike continued the theme with
Blackleg Miner
(
Roud
3193). Colin joined in with
Union Maid
(
Woody Guthrie
).
Phil's first song of the evening was
Salty Dog Blues
. Chris, keen to increase her confidence with the instrument brought out her guitar to perform
Vincent
(
Don McLean
), and Roger's first of the evening was
Rose of Tralee
(
Edward Mordaunt Spencer
and
Charles William Glover
, or
William Pembroke Mulchinock
).
After Derek's reference to the miners' gala, Simon referred to another event within the next week, for was soon to be 14 July, Bastille Day. Simon's French song was
Chevaliers De La Table Ronde
.
The first song for visitors, Steve and Sandra, was
Let Union Be In All Our Hearts
(Roud 17141); I am pretty sure it is indeed Steve and Sandra performing the song in that linked video.
Kath, playing her concertina, confused the keeper of the official record, who wrote something to the effect of "Messing About With Buttons" each time she performed. I admit to cheating slightly by discussing the tunes with her on the following evening when we met at a party. Her tunes were:
Planxty Irwin
(
Turlough O'Carolan
),
Margaret's Waltz
(
Pat Shuldham-Shaw
),
Salmon Tails Up The Water
(
James Allan
),
Jimmy Allan
(possibly by James Allan), and
Red Is The Rose
.
The last song of the evening a traditional closing son, was
The Parting Glass
, sung by Derek.
Here's
a selection
of songs sung during this session.
(Number of people present - 12, of which 11 performed)